Congratulations to the winner of the 2018 Doug Moran National Portrait Prize, Lynn Savery, as announced this morning at Juniper Hall. This is Lynn's first major art prize.


"...The maker of this painting has an obsessive eye for detail and is also able to make the entire painting sing as a whole. It has emotion, beauty and love of life's visual stories. The painting is full of invention, sophisticated colour and defiant SPLAT in your face appeal."

Louise Hearman, Judge.

As the winner of the Doug Moran National Portrait Prize, an acquisitive award, Lyn receives $150,000. All finalists receive $1,000. More information.
Lynn Savery
Self Portrait
Oil, 153cm x 82cm

"This self-portrait expresses who I am and my views. I purposely chose to sit with my legs open wide and to casually lean to one side to illustrate how body posture contributes to gender stereotypical impressions. Since there is nothing physiological that prevents women sitting with their legs wide apart or for that matter, men sitting with their legs closed, these postural differences are not biologically determined but socially constructed...Clementine the English bulldog is a good friend of mine and I wanted to capture her physical and emotional presence in this work."
Thank you to the many artists who this year and in the past 30 years have entered the Moran Prize, keeping the high standard of portraiture in Australia in our sights. We are forever grateful that you share your passion with us.

Thank you to our 2018 Judges who as always had a very challenging task to choose just one winner; Louise Hearman, Dr Ron Radford AM and Greta Moran.

Exhibition
We invite you to visit Juniper Hall and view the winner and finalists' works of 2018. The exhibition will not only feature this year's finalists but also a selection of works from the Moran collection. This is a one off opportunity to see winning artworks from past years of the Moran Prize including some of Australia's most acclaimed artists like Lesley Rice, Ben Quilty and Prudence Flint to name a few. More information.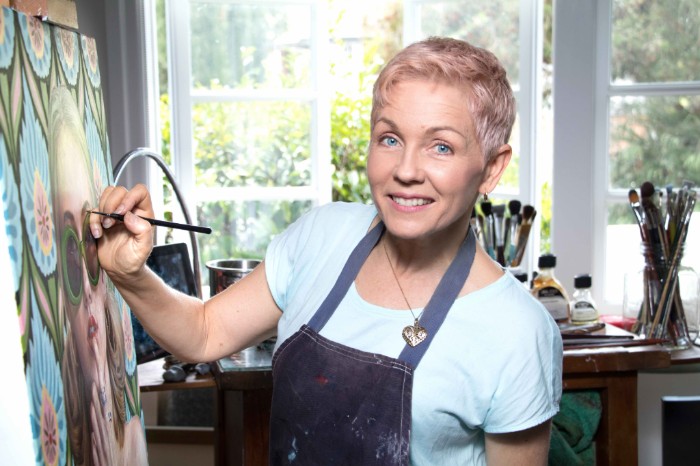 Artist Talks
Find out more about the 2018 finalists and their work at our Sunday artist talks. We'll be talking all things portraiture and finishing off with a drink in the garden at historic Juniper Hall. Bookings are not required.

Sundays at 2pm from 4 November to 16 December inclusive.
Free.

Juniper Hall
250 Oxford St, Paddington NSW
More information.