Editor's Note
In this issue: DCL's Harmonizer content reuse software gets an upgade. Read about its new capabilities. There's also an informative piece on the value of making your content accessible to those with disabilities, following the model of Section 508. Plus, the results from the 6th annual CIDM/DCL content survey are in - what did we learn? Enjoy the newsletter.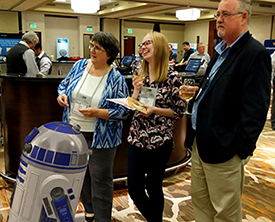 In a galaxy far, far away (Denver, CO): R2D2, Shelly Saunders and Jacqueline LaLiberte from Graco and DCL's Brian Trombley at the CMS DITA North America Conference.

6th Annual DCL-CIDM Survey Highlights Need to Better Future-Proof Content
"The survey shows that content developers are aware of their customer needs and know where their information falls short in meeting those needs. However, they often don't know where to start to make improvements – What will make the most impact? What is the most cost-effective? What can they do with the resources they have available today?" said Dawn Stevens, President of Comtech Services and Director of CIDM. Read more.
Why brands and businesses need to better future-proof content

Appearing in Agility's Bulldog Reporter

The survey responses make clear that content is recognized as a high-value asset for many organizations, so why then is so much of it locked in formats resistant to the level of analysis and number of delivery platforms available in today's "big data" world? Read more.

Archive Webinar: Following the Trends: 2018

Join DCL and Comtech Services as we review the results of the 2018 survey and compare it with past results. Learn how information developers are coping with new customer demands for innovative approaches to development and delivery. Learn what tools teams are using and how they respond to technical innovations. Watch now.

Upcoming Webinar - Bye Bye, Binders: Training Content Goes Digital
Jenna Hammerslag, Marketing Associate, APDS and Greg Fagan, Sales Director, DCL
May 15th - This webinar will highlight the benefits of digitizing the staff training process and how best to incorporate managed technology into your agency's day-to-day operations. Register Today.

More Upcoming Webinars
CGM & SVG - Data Exchange Workshop
Presented by: David Manock, VP and Director Sales & Marketing, Larson Software Technology
Tuesday, June 12, 2018 | 1:00pm - 2:00pm ET