Editor's Note
In this issue: A case study that offers an in-depth look at what it takes to meet discovery vendors' complex requirements. Don't miss a new article that recaps the findings from our recent training and learning survey. There's also an interview with Professor Carlos Evia, Ph.D on creating lightweight DITA, plus more. Enjoy the newsletter.

Discovery That Would Make Magellan Proud
Mark Gross, President, DCL and Suzanne Daulerio, Product Manager, ASTM International, appearing in Industry Today
Discovery vendors and indexing services each have precise requirements on how and when content such as journals, eBook collections and metadata (including keywords tagged as titles, authors and summaries) should be delivered for maximum exposure. Many small-to-medium-size publishers struggle with meeting all these requirements, which can result in big challenges when trying to make their content more discoverable. Read more.

Training Materials - Does Format Matter?
Tom C. Smith, Director of Marketing, DCL, appearing in training
A colleague and I recently were discussing football. But it was not in the context of wins, losses, rushes, touchdowns, or any other stats gridiron geeks might litigate. No, we were talking about an ESPN blog article from some time ago that explained how NFL teams have moved away from paper or bound playbooks and over to tablets. Read more.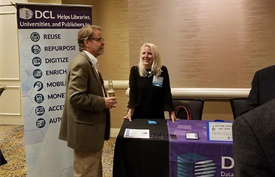 DCL's Sarah LeBeau, with Patrick Reakes from the University of Florida, at the 60th Annual NFAIS Conference.

What Do You Think of Documentation Quality?
Marie-Louise Flacke, featured in DCL News
| | | |
| --- | --- | --- |
| | | For an information developer, quality means he reached his objective: he designed with the end-user in mind. His job is complete and efficient when the end-user is satisfied with the information he provided. Read more. |

Helping Create Lightweight DITA: An Interview with Carlos Evia, Ph.D
Keith Schengili-Roberts, featured in DITA Writer
Carlos Evia is also the co-chair of the Lightweight DITA Sub-committee at OASIS, and is a driving force behind the creation of the Lightweight DITA. He kindly agreed to an interview, which looks at his academic career, the relative visibility DITA has within the academic community that is teaching technical communications, and his role in crafting the upcoming SIGDOC conference. Read more.

Upcoming Webinar - State of Education in TC - Panel
Rebekka Andersen, Ph.D., Associate Professor, University Writing Program, University of California, Davis, Carlos Evia, Ph.D., Associate Professor and Director of Professional and Technical Writing, Virginia Tech, Stan Doherty, Technical Publications Manager, SimpliVity Corporation and Andrea Ames, CEO/Founder, Idyll Point LLC
April 17th - The panelists will offer insight into some of the academic debates that shape program and curriculum design, and they will describe several ways those working in industry might partner with academic programs in technical communication to help bridge the gap between what employers see and need from new college hires. Register Today.

More Upcoming Webinars
Bye Bye, Binders: Training Content Goes Digital
Presented by: Jenna Hammerslag, Marketing Associate, American Prison Data Systems (APDS)
and Greg Fagan, Sales Director, DCL
Tuesday, May 15, 2018 | 1:00pm - 2:00pm ET
CGM & SVG - Data Exchange Workshop
Presented by: David Manock, VP and Director Sales & Marketing, Larson Software Technology
Tuesday, June 12, 2018 | 1:00pm - 2:00pm ET

Upcoming Events
JATS-Con 2018
April 17 - 18, 2018 | Bethesda, MD

Content Management Strategies/DITA North America
April 23 - 25, 2018 | Denver, CO
DCL is exhibiting.

Brian Trombley, National Sales Director, DCL, will moderate "Learn from the Leaders" on Tues, Apr 24th.

2018 AIA Product Support and Technical Data Workshop
April 23 - 26, 2018 | Oklahoma City, OK
DCL is exhibiting.

Naveh Greenberg, Director, US Defense Development, DCL, will be a panelist in the "Technical Data Conversion Success Stories and Issues Encountered" session on Wed, Apr 25th.