Editor's Note
In this issue: A look inside the DCL/Silverchair partnership and results from a training and learning survey by DCL and DITA Strategies spotlights an industry facing some challenges. And don't miss DITA authoring expert Marie-Louise Flacke's insights surrounding the question, Why is DITA implementation in Europe so far behind? Plus more. Enjoy the newsletter.

DCL and Silverchair Team Up On Key Content Migration Projects
DCL, which helps organizations transform their content into smarter formats, has collaborated with Silverchair, which integrates and delivers scholarly and professional content from a single platform, on important content migration projects for key clients, including Duke University Press and the International Water Association (IWA). Read more.

New Survey: Following the Trends – Is Your Content Ready?
Consumers have more avenues than ever before to find the content they need. Are you trying to decipher how content trends are impacting your business? Do you need to respond to a rapidly changing digital marketplace? Join us to discover how changing content development and delivery requirements are affecting your business today. Learn how others in the information-development community are planning to respond. Take the Survey.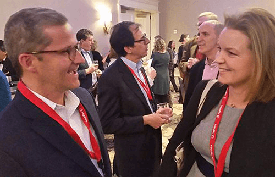 DCL's Greg Fagan and Violaine Iglesias of GVPi at the AAP-PSP 2018 Annual Conference.

Why is DITA Implementation In Europe So Far Behind?
Marie-Louise Flacke, featured in DCL News
| | | |
| --- | --- | --- |
| | | Further to a 2017 survey by Keith Schengili-Roberts, European documentation teams have a sound knowledge of DITA technicalities. Still, DITA penetration into the "Old Continent" is below expectations. Let's examine some reasons and considerations about potential roadblocks. Read more. |

Plagiarism Software Unveils a New Source for 11 of Shakespeare's Plays
Michael Blanding, featured in The New York Times
For years scholars have debated what inspired William Shakespeare's writings. Now, with the help of software typically used by professors to nab cheating students, two writers have discovered an unpublished manuscript they believe the Bard of Avon consulted to write "King Lear," "Macbeth," "Richard III," "Henry V" and seven other plays. Read more.

Upcoming Webinar - Authoring Standards-Based Intelligent Content the Easy Way with Lightweight DITA
Carlos Evia, Ph.D., Associate Professor and Director of Professional and Technical Writing, Virginia Tech and Michael Priestley, Sr. Technical Staff Member (STSM), Enterprise Content Technology Strategist, IBM
March 27th - Lightweight DITA (LwDITA) is a proposed standard and methodology for authoring intelligent technical content. LwDITA aims to ease adoption of the open standard Darwin Information Typing Architecture (DITA) in industry and academia by reducing its dependence on robust XML structures and allowing authors to develop content in a variety of markup languages. Register Today.

More Upcoming Webinars
Following the Trends: 2018
Presented by: Dawn Stevens, President of Comtech Services and Director of The Center for Information-Development Management and Mark Gross, President, DCL
Wednesday, March 28, 2018 | 11:00am - 12:00pm ET