Help Us Win Tractor Supply's "Rescue Your Rescue" Contest!
Tractor Supply is having their 5th annual "Rescue Your Rescue" contest! Today thru Friday, 9/1/17, visit http://bit.ly/2xdREe6 to submit a photo and tell them why Equine Voices is your favorite non-profit animal rescue that deserves up to $10,000 in grant money! They'll review all entries and select 10 finalists for the voting round. Please help us win!
Would You Like to Sponsor Illusion?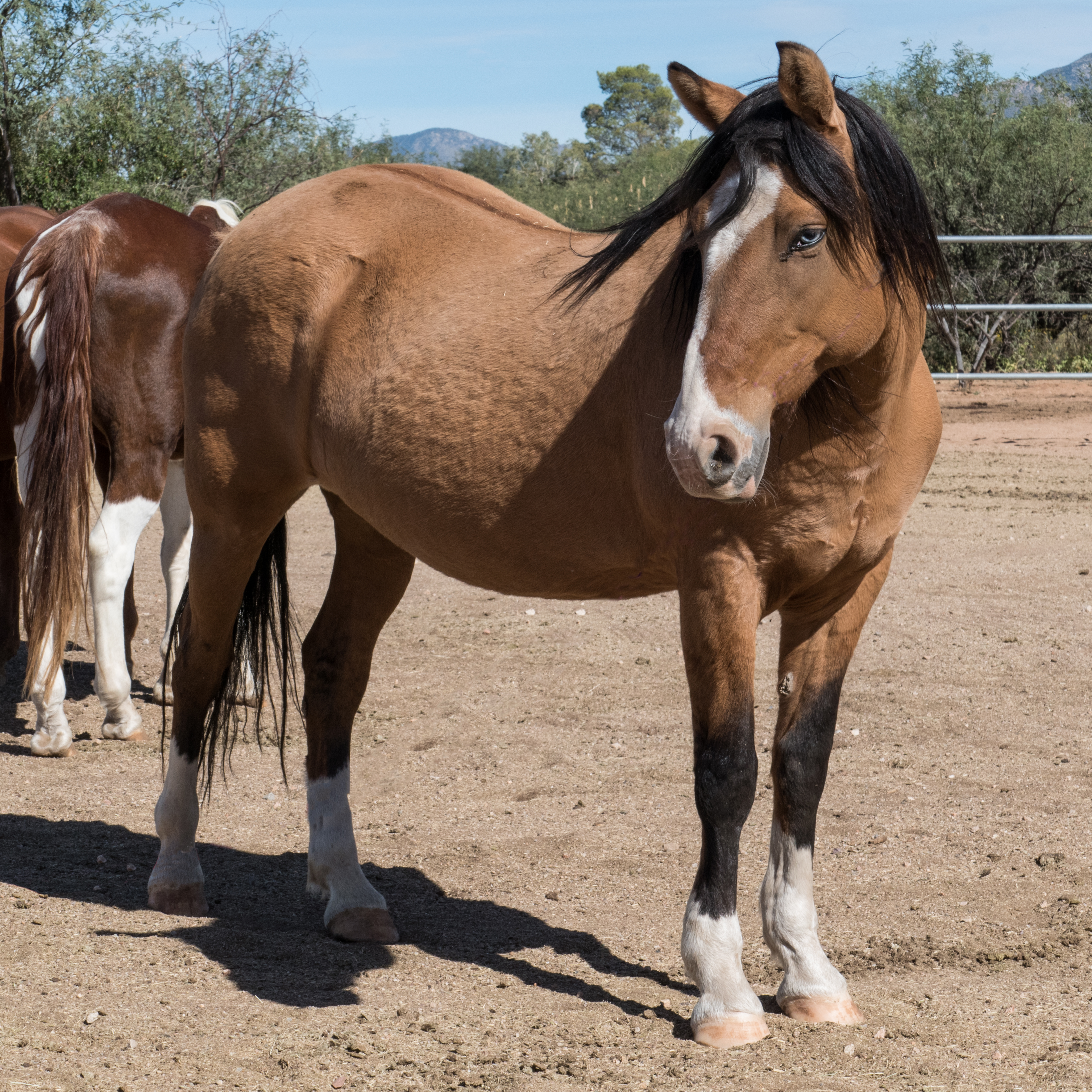 Illusion, so beautiful!
Illusion is a beautiful dun with one blue eye; she was found in the desert in 2010 and then released to Equine Voices. Illusion suffers from some arthritis and has some trust issues. She has come a long way since her arrival but does well with those who understand the nature of horses. Last week, Illusion started limping and showing other signs of pain in her front legs. She is currently on stall rest and has an upcoming appointment to be seen by the vet. If you would like to help our beautiful girl, Illusion, please call the office at 520-398-2814 or email April at April@EquineVoices.org

Please Speak for the Horses!
We're located in a very important Congressional district, and our U.S. Representative needs to know how many of us care deeply about protecting wild horses from the terrifying fate of slaughter. This September when members of Congress return from recess, they'll have the opportunity to vote on legislation that will open the gates for wild horses to be removed from federally protected lands and slaughtered.Our member of Congress, Representative Marth McSally, could have an important role in ensuring this language does not become law. We urge you to use your voter power to help protect these iconic animals! You can reach Representative McSally at (520) 459-3115. Politely let the office know your name, what town you live in and that you strongly encourage Representative McSally to ensure no wild horses are removed from federal protections and sent to slaughter. This may seem simple, but many members of Congress are hearing from our opposition, encouraging them to remove these horses and brutally kill them – for no reason other than convenience. Your voice could make a serious impact, and I truly hope you will place this quick call.
Anna Twinney with her Simple Solutions: A Week of Advanced Horsemanship class is right here at Equine Voices until September 1st! Please visit http://www.reachouttohorses.com/ttt.html#simple for more information and/or follow us on Facebook to see what the class is up to each day!
Have You Gotten Your Tickets for the 2017 Millions For Tucson Raffle?
Every dollar made for these raffle tickets will benefit the horses here at Equine Voices; so don't miss your chance to win a prize AND help the herd! Tickets for this raffle are $25 each or 5 for $100. For more information click here or call the office at 520-398-2814 or email april@equinevoices.org
This year Jim Click has changed the raffle prize, in fact, there are actually 3!
The Grand Prize: a 2017 Ford Explorer Platinum,
2nd Prize: 2 round-trip, 1st class airline tickets to anywhere in the world
3rd Prize: $5,000 Cash.
---
Our Fall Fundraiser is Coming Soon!
We're excited to announce that planning for our annual fall fundraiser is in the works! We'll be sure to keep everyone updated as we go but in the meantime, you can get more details by clicking here!
Gulliver & Friends Resale Boutique is Open in Tubac!
We are excited to finally announce that Gulliver & Friends Resale Boutique is back open and now located in Tubac at 6 Camino Otero Street! We've worked diligently to get everything moved from our previous location and we would like to thank everyone who had a hand in helping to make it happen - we couldn't have done it without all of you! Our summer hours will be Wednesday-Saturday 11am-4pm, so stop in and check it out - all proceeds will go directly to help the horses of Equine Voices!
Shop Our New Partner - Global Guardian Designs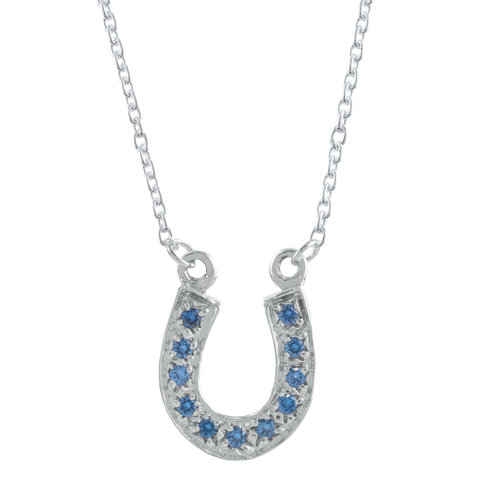 A beautiful piece by GGD
Global Guardian Designs is deeply committed to helping as many non-profits as possible towards making this planet a much kinder, more compassionate and healthier place for animals, the environment and humans. They design a wide array of beautifully handcrafted pieces, made by local artisans in the United States that sustainably give back to many different charities and causes. With every purchase, 20% of net proceeds are donated to Equine Voices! Check out their store by clicking here and following the link to their website.

We Have a Few Birthdays to Celebrate!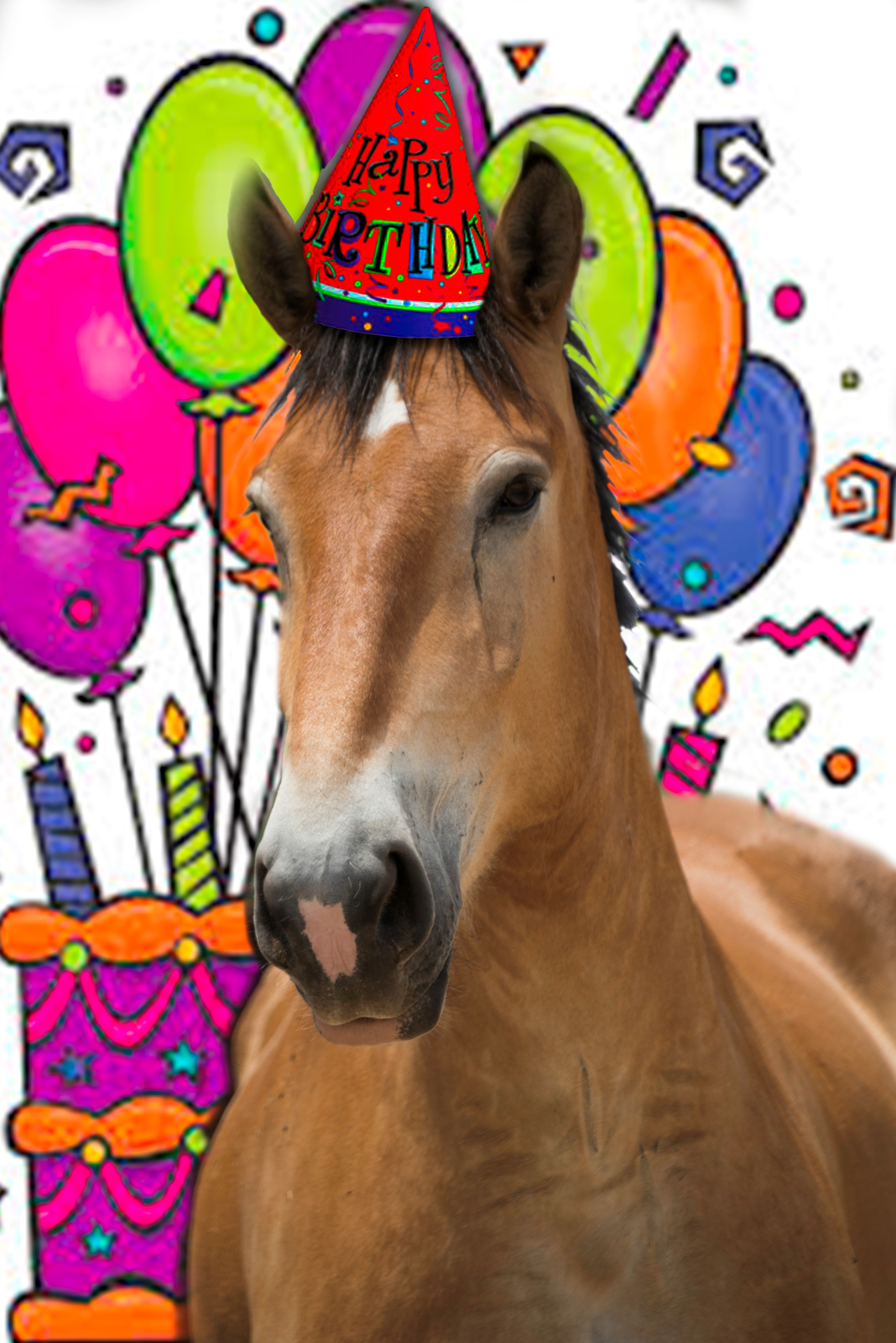 Gulliver is ready to party!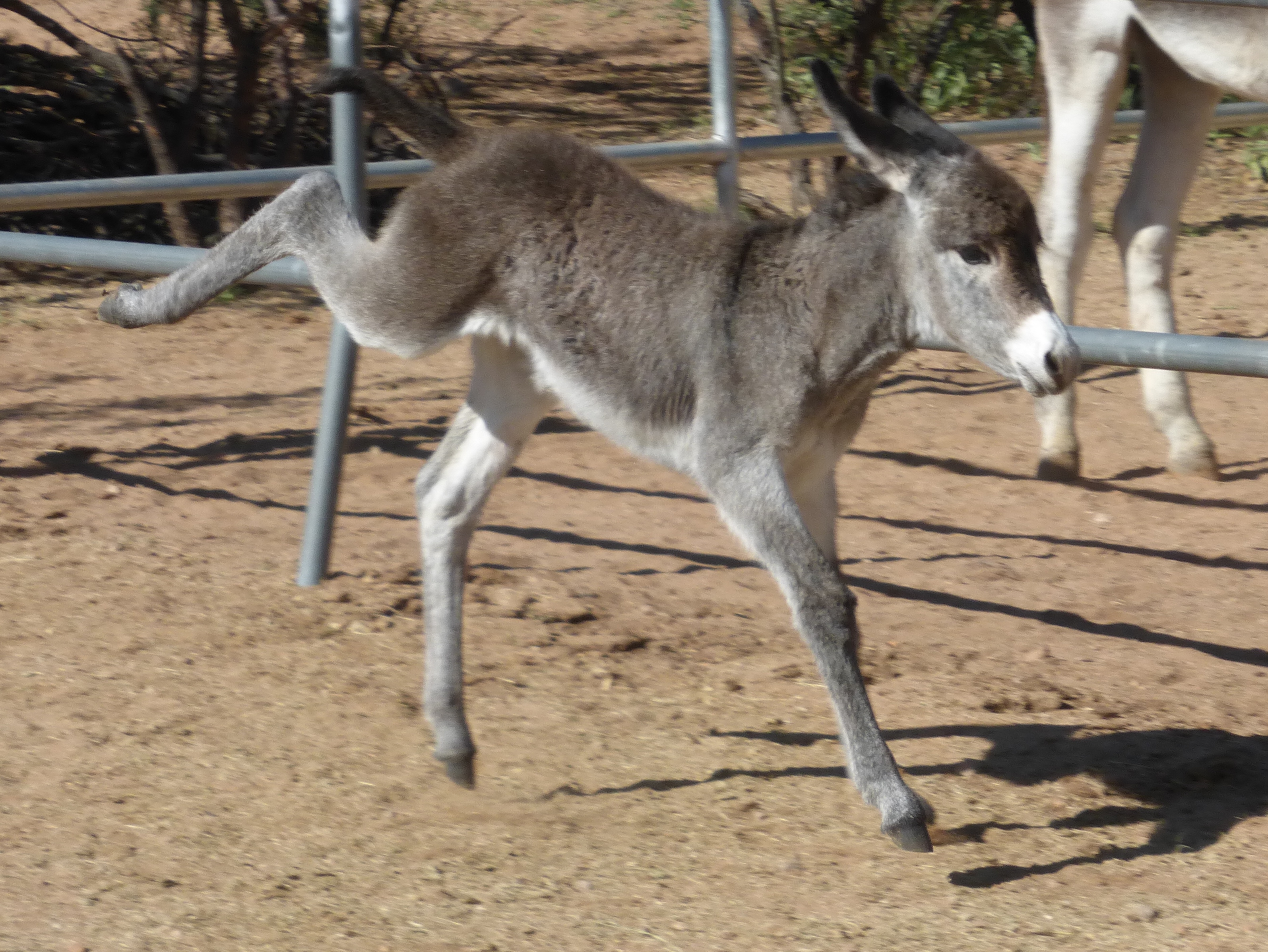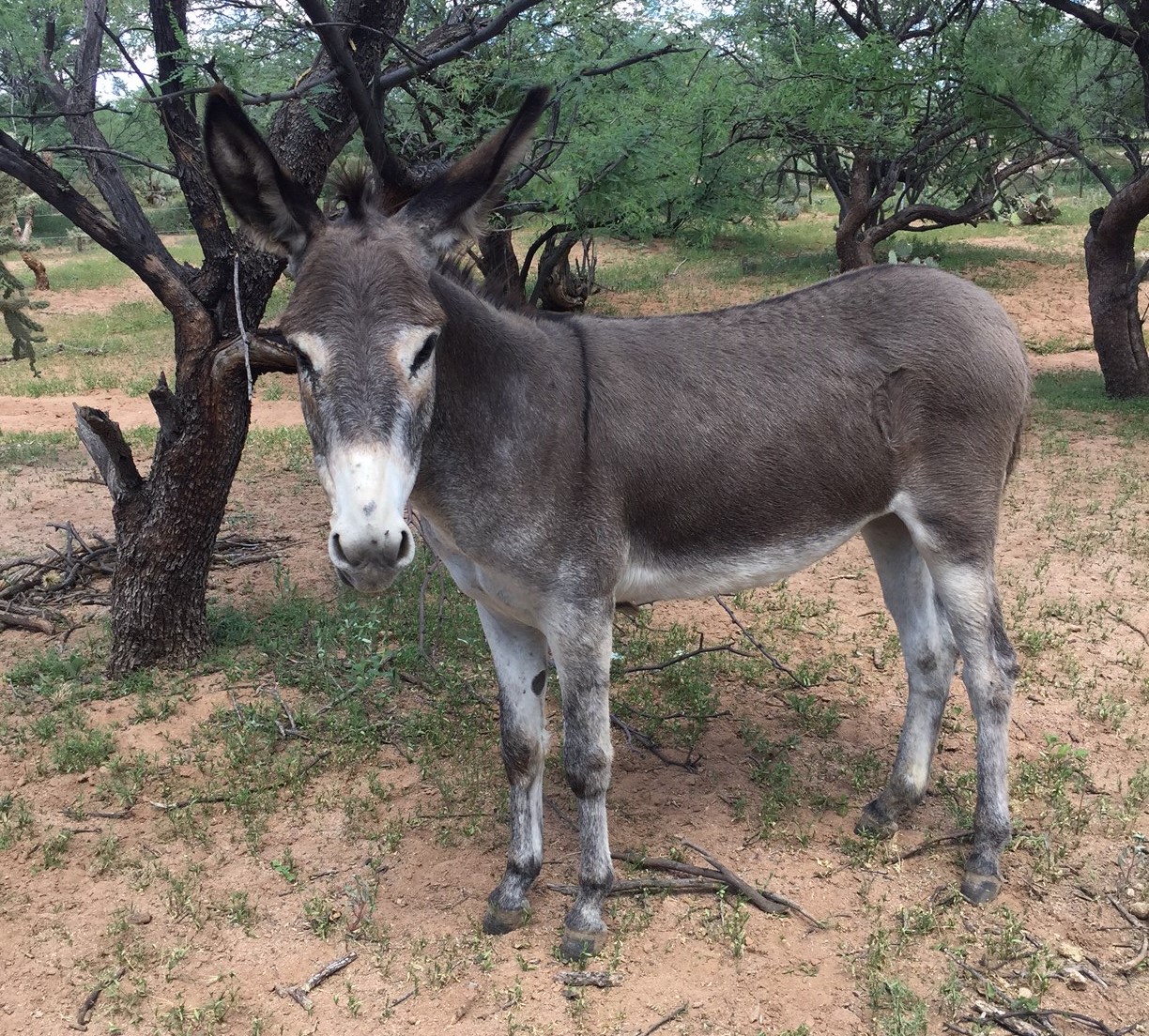 Rosetta is growing up so fast!
Today is our sweet burro baby Rosetta's 1st birthday! We can't believe it's already been a year since she was born right here at Equine Voices! We also want to wish a very Happy Birthday to Joie Gunta, Sarah Harris, Mo Grace, Debbie Wright, Katie Reynolds, Keith Dock, Mo Willoughby, Phil Lavoi, Alice Goddard, Dorothy Stoops and Barta Bartum.

Gulliver Fan Club
If you love Gulliver and would like to support the horses at Equine Voices Rescue & Sanctuary, please join "Gulliver's Fan Club". For only $10/month, you can be part of helping Gulliver spread the word about the plight of the foals bred for the PMU industry.
Join The Gulliver Fan Club!
Sponsor a Horse!

Sponsoring a horse and receive a beautifully framed picture of the horse you've chosen and their story. For an annual sponsorship you will also receive a beautiful Cowboys Collectible horse hair key chain. Colors and styles may vary based on availability.
Click Here to Sponsor!