Our Fall Fundraiser is Right Around the Corner
We're very excited about our upcoming annual Fall Fundraiser! We hope to see a lot of familiar faces and new ones too! If you're interested in getting more information or purchasing tickets, you can do so by clicking here. You may also call the office at 520-398-2814 or email April@EquineVoices.org.
A special thank you to our table sponsors, Earhart Equipment, the Law Office of Walter Henderson, the Rice Group and our live and silent auction donors! We're excited to announce that the bidding will begin prior to the event. If you are unable to attend the event, you will have a chance to participate by bidding remotely. More information to come!!!
Magic is adopted and happy in his new home!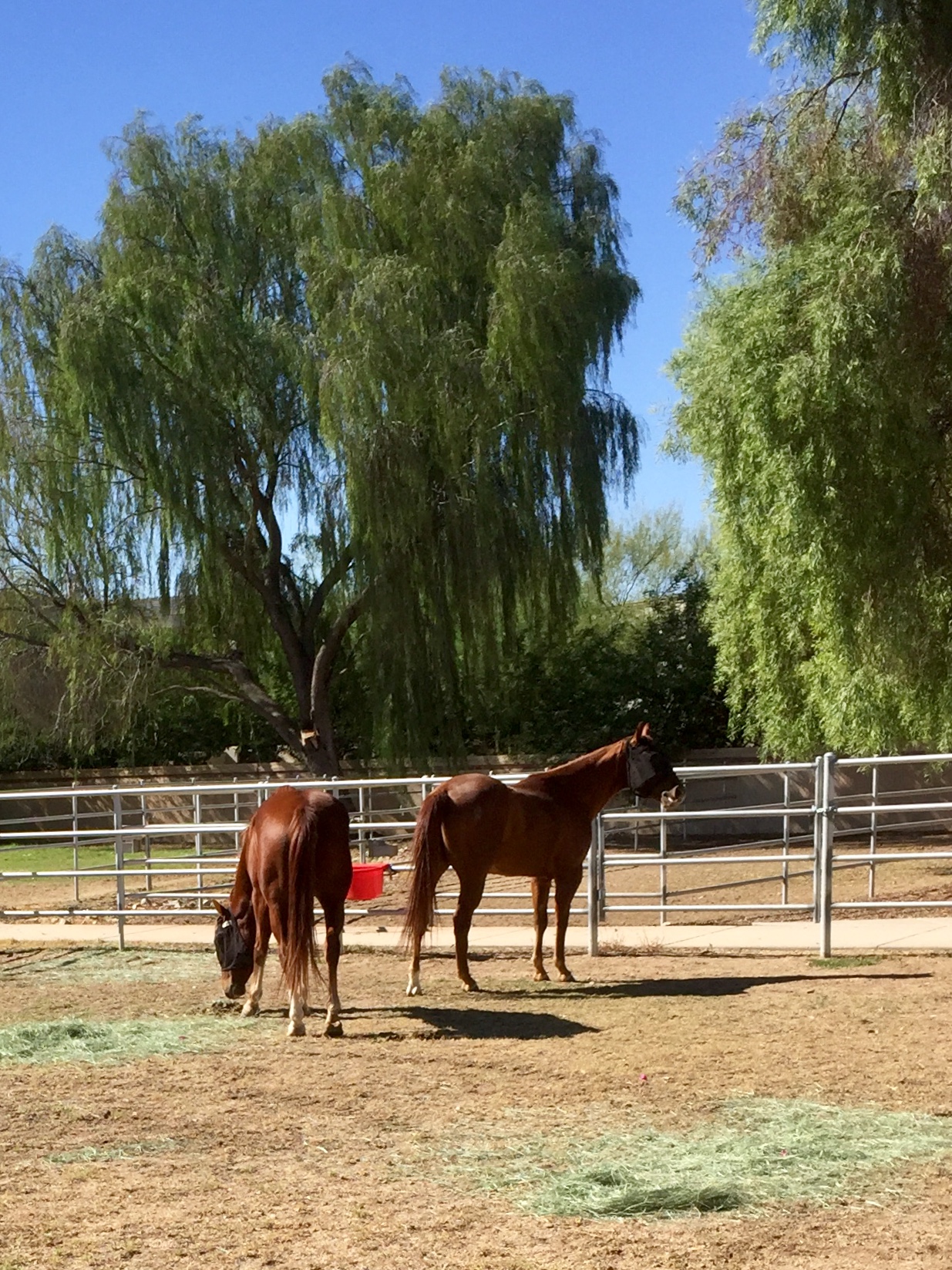 Magic
We are thrilled to announce that Magic has been adopted and gone to a wonderful new home in Scottsdale, AZ! When Magic came to Equine Voices from North Dakota at the end of 2011, he was just 7 months old. He came to us with 8 other foals and was the shyest among the group. He had some basic training with Anna Twinney shortly after his arrival and has spent the last 9 months with Equine Voice's trainer, Caitlin Wortman. She did a wonderful job training Magic and we are so thankful to her for all of her work with him!

Would you like to sponsor or adopt Bobby Sox?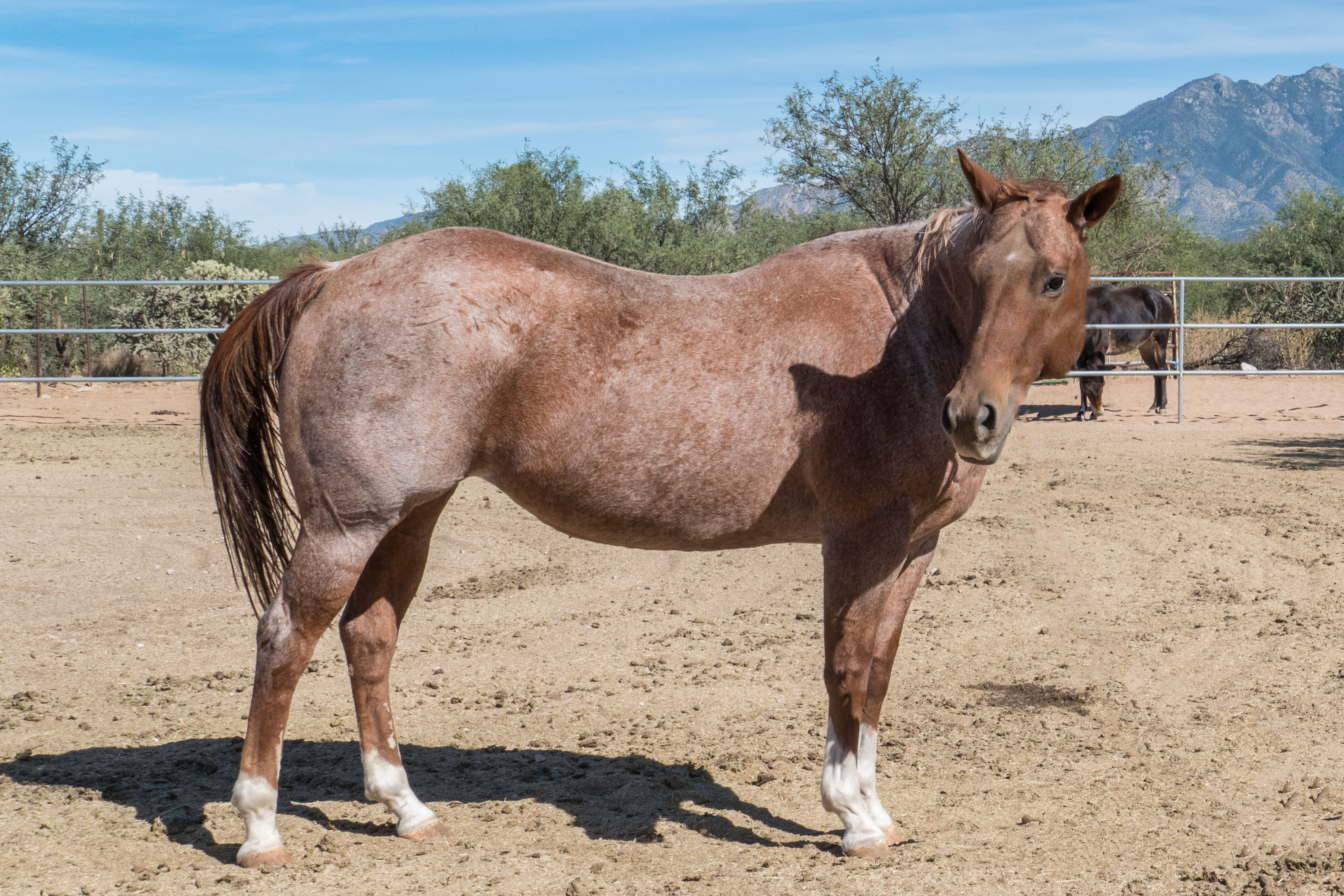 Bobby Sox
Bobby Sox is a beautiful red roan quarter horse who was rescued from a feedlot in Canada. She has been ridden under saddle, leads, loads, and picks up her feet. Bobby Sox tends to be dominant with other horses, but is great with people. Bobby Sox is a very sensitive horse that would need an experienced, compassionate person that understands her. If you are interested in helping Bobby Sox by sponsoring or adopting her, please call 520-398-2814 or email April@equinevoices.org

Have You Gotten Your Tickets for the 2017 Millions For Tucson Raffle?
Every dollar made for these raffle tickets will benefit the horses here at Equine Voices; so don't miss your chance to win a prize AND help the herd! Tickets for this raffle are $25 each or 5 for $100. For more information click here or call the office at 520-398-2814 or email april@equinevoices.org
This year Jim Click has changed the raffle prize, in fact, there are actually 3!
The Grand Prize: a 2017 Ford Explorer Platinum,
2nd Prize: 2 round-trip, 1st class airline tickets to anywhere in the world
3rd Prize: $5,000 Cash.
---
Gulliver & Friends Resale Boutique is Open in Tubac!
We are excited to finally announce that Gulliver & Friends Resale Boutique is back open and now located in Tubac at 6 Camino Otero Street! We've worked diligently to get everything moved from our previous location and we would like to thank everyone who had a hand in helping to make it happen - we couldn't have done it without all of you! Our summer hours will be Wednesday-Saturday 11am-4pm, so stop in and check it out - all proceeds will go directly to help the horses of Equine Voices!
Gulliver Fan Club
If you love Gulliver and would like to support the horses at Equine Voices Rescue & Sanctuary, please join "Gulliver's Fan Club". For only $10/month, you can be part of helping Gulliver spread the word about the plight of the foals bred for the PMU industry.
Join The Gulliver Fan Club!
Sponsor a Horse!

Sponsoring a horse and receive a beautifully framed picture of the horse you've chosen and their story. For an annual sponsorship you will also receive a beautiful Cowboys Collectible horse hair key chain. Colors and styles may vary based on availability.
Click Here to Sponsor!